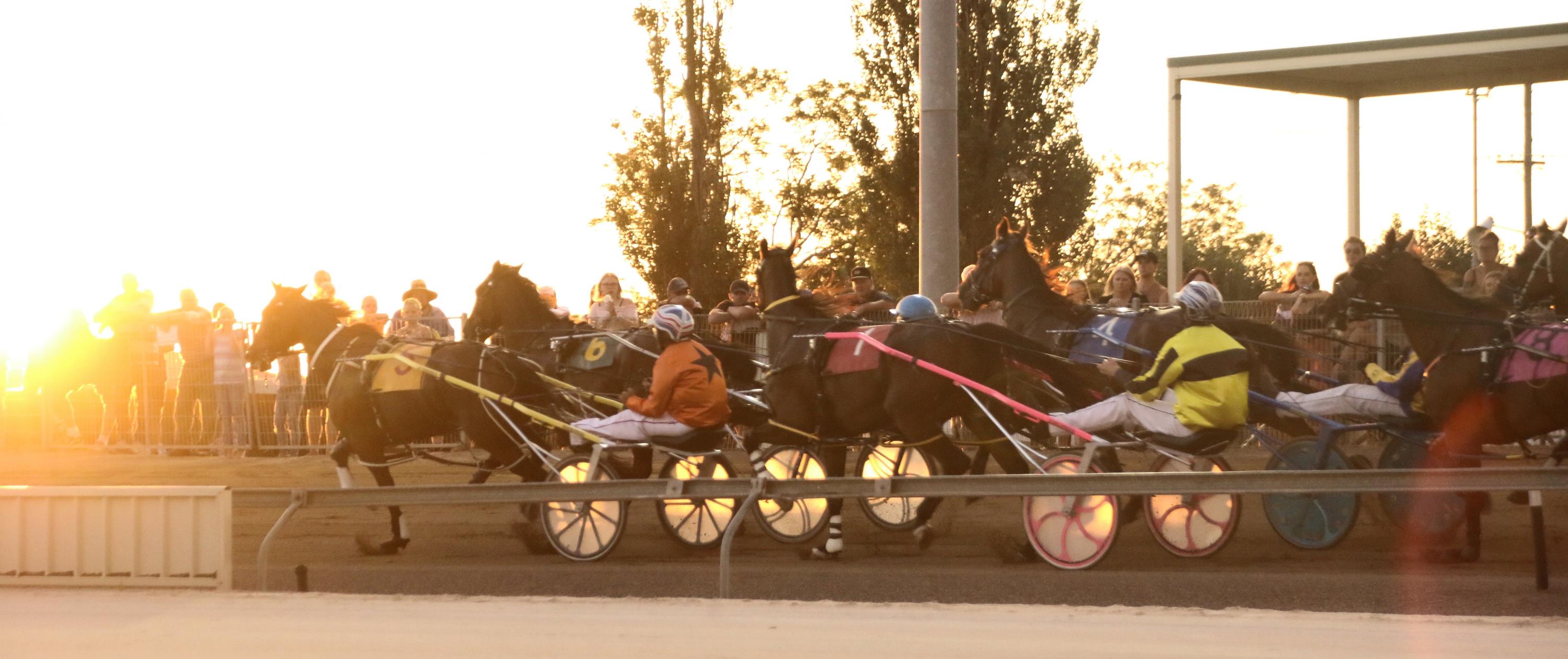 Ashark to the fore for rookie trainer Melanie Elder
via Craig Kerry - Newcastle Herald (original story here)
LOUTH Park trainer Melanie Elder was looking on a draw in barrier four as a good omen after qualifying her first-ever Inter City Pace (2422 metres) runner for the group 3 final at Maitland.
Ashark, which Elder bred from her first horse, mare Pagan Love, won the fourth and final heat of the series on Saturday night to secure his spot in the $30,000 decider.
The four-year-old gelding ($4.40) showed toughness to hold out Mark Jones-trained odds-on favourite The Bus for the lead in 30.6-second quarters over the first three. He then hung on by 4.4m from The Bus to win in a 2:01:8 mile rate.
Ashark then drew four for the 10-horse C2-C4 series final this Saturday night, which was the worst he could gain on his grade.
"But I don't mind four, it's my lucky number," said Elder, the daughter of veteran trainer Darren Elder, on Sunday.
"I was born on the fourth, in 1994, and if I've ever got to pick a number, it's always four. It might be an omen.
"I'm really happy with him, especially over that distance, to hang on. He's actually pretty bright this morning. I thought he would have been a bit tired but he's bright and he's been belting around the paddock."
The win was a huge thrill for Elder, who has been training for only a year. Her brother Brad drove Ashark to victory as part of a winning treble on the night.
"It was a really good night," Melanie said. "Over the years Dad has had a few that have made the final. Shannonsablast was unlucky when he was in it and ran fifth, but it would be nice to get a winner, especially at our home track."
Kevin Pizzuto, the trainer of Inter Dominion champion Tiger Tara, was also a winner on debut in the series when Persimmon cruised to the fastest heat time before drawing gate five.
Persimmon, with Chris Geary in the gig, led all the way to take out heat three in 2:01:6, beating Maitland trainer-driver Peter Hedges' Im Major Harry into second by 20 metres. 
Benalong Valley, for Sydney trainer-driver Trevor Munday, made the most of a trail behind Seeuinnashville to edge it out in heat two.
Geary also won with Pocket Of Terror, for South Coast trainer Kevin Hayes, in heat one. It lead throughout to beat Camroller, for Sawyers Gully trainer Cameron Davies, by five metres.
The Sam Ison-trained Bassey and Jim Bates' 2017 finalist, Megs Monaro, made the final as the fastest third placegetters.
Inter City Pace Final field: 1. Benalong Valley (Trevor Munday), 2. Pocket Of Terror (Kevin Hayes), 3. Im Major Harry (Peter Hedges), 4. Ashark (Melanie Elder), 5. Persimmon (Kevin Pizzuto), 6. Camroller (Cameron Davies), 7. Seeuinnashville (Craig Cross), 8. Megs Monaro (Jim Bates), 9. Bassey (Sam Ison), 10. Ashkii (1st em) (Michael Elder), 11. The Bus (Mark Jones).